Sundance Vacations Makes "Great Strides" Towards Finding a Cure
Sundance Vacations sponsored the Cystic Fibrosis Foundation (CFF) Great Strides Walk in Point Pleasant, New Jersey, this past Sunday, May 15.
This three-mile walk took place at noon and was a fundraising effort organized by the Greater New Jersey chapter of the CFF to raise funds for cystic fibrosis treatment and research.
Thirty-thousand Americans live with cystic fibrosis, a progressive, genetic disease which causes lung infections and breathing limitations, according to www.cff.org. Defective genes cause thick buildup of mucus, which in turn clog airways to the lungs and hinders the function of the pancreas and other organs.
With more than 1,000 new cases diagnosed each year, Sundance Vacations employees understand how action is needed now more than ever to save the lives of those touched with CF.
Sandra Milillo, Assistant Director of Sundance Vacations Parisppany, N.j., has been sponsoring the Great Strides walk in Point Pleasant for a number of years.
Milillo's cousin Mary has a son with cystic fibrosis named Jacob Lucash and the Sundance Vacations employee helps fund the walk every year to support her family.
Jacob was born with CF and has withstood many treatments, surgeries and more throughout his whole life to combat the deadly disease.
Even now, at the age of nine, Jacob receives two vest and nebulizer treatments a day and takes nine different medications two to three times a day to keep his weight up. 
Jacob's grandparents, Fran and Norey Lucash, tell Sundance Vacations that they think their grandson is "very brave" for handling his treatments with such "grace and acceptance," but they want to do all they can to find a cure so he does not need to suffer.
Their participation in the Cystic Fibrosis Foundation's annual walk is what drives more CF research and gives Jacob a better chance to be cured.
"This is why we walk," the Lucash family said in an email out to friends and family asking for support. "By walking today, we are helping add tomorrows to the lives of people living with cystic fibrosis. This is why we support and raise much needed funds for the Cystic Fibrosis Foundation — because we believe that one day this disease will be cured, and Jake and 30,000 other CF patients won't have to go through all these treatments, procedures and medications to stay alive."
Fran and Norey's team raised over $4,500 to help Jacob through the CFF's Jake's Brigade fundraiser, and together, with the 15 teams of Jake's Brigade, collectively gathered almost $7,000 in funds for his cause.
Jake's Brigade surpassed its goal for the walk fundraiser and Sandra Milillo and the Sundance Vacations Parsippany office are proud to have helped Jacob and his family.
"Thank you," said the Lucash family.  "From the bottom of our hearts, for your support and interest in this great foundation, and in the life of our Jacob."
Learn more about Sundance Vacations Parsippany and our efforts through our Latest News posts!
For more information, updates, travel tips and news from Sundance Vacations, be sure to follow us on the following social media outlets: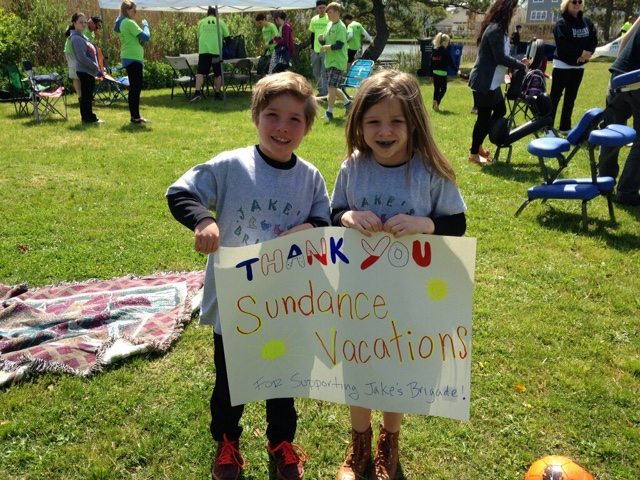 Jennifer writes for Sundance Vacations' Charities, Blog and News site. As our Digital Marketing Coordinator, she is the mastermind behind our YouTube videos and generates online content for our travel company.