Sundance Vacations is acting as a Platinum Premier Sponsor for Bowl for Kids' Sake
On March 24, 2018, Big Brothers Big Sisters of the Bridge will be holding their annual Bowl for Kids' Sake at Stanton Lanes in Wilkes-Barre PA. The event serves as the agency's largest annual fundraiser! Last year, the event helped Big Brothers Big Sisters of the Bridge raise $102,500 to serve 270 children in Northeastern Pennsylvania (NEPA).
This event consist of 5 bowlers per team with up to 350 teams! Fundraisers like this helps BBBS maintain its operations! All raised will be used for volunteer recruitment, volunteer screenings, child assessments and ongoing match support.
Throughout the event, bowlers have a chance to win prizes while raising money! Each bowler is encouraged to raise at least $50 in pledges, but the more they raise the more prized they can win!
If you have any questions or need more information on how you, your company or organization can help Big Brothers Big Sisters and the children in the area through Bowl For Kids' Sake, please contact Big Brothers Big Sisters of the Bridge.
Call:  1-800-955-4376
Fax:  570-829-7781
Email:  mentor@bbbsnepa.org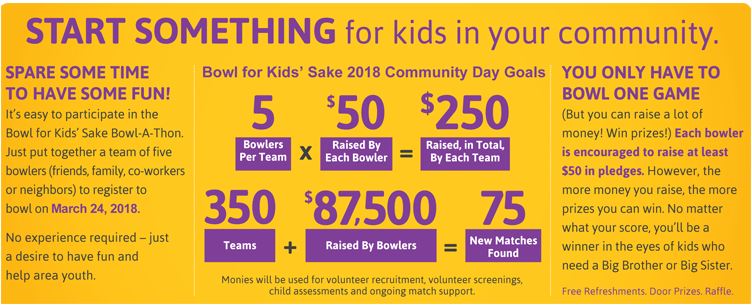 ---
More about Big Brothers Big Sisters of the Bridge
Big Brothers Big Sisters of the Bridge currently has approximately 450 children in need, over 220 active matches, and 250 families impacted!
Their mission is to provide children facing adversity with strong and enduring, professionally supported 1 to 1 relationships that change their lives for the better, forever.
Statistics have shown that those involved in their program have been 46% less likely to begin using illegal drugs and 52% less likely to skip school.
---
For more information on Big Brothers Big Sisters of the Bridge, check out their page on our Charities site.
View all charities Sundance Vacations Wilkes-Barre worked with here: Wilkes-Barre News.
Follow us for information, updates, travel tips and news from Sundance Vacations:
Next month, Big Brothers Big Sisters of the Bridge will be holding their annual Bowl for Kids' Sake event, and Sundance Vacations is proud to sponsor it once again! If you'd like to register a team or donate to the event as well, you still have time! https://t.co/eGHLcnCaAy pic.twitter.com/xCPosrN7lw

— Sundance Vacations (@travelsundance) February 6, 2018