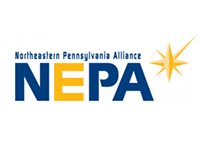 DONATED TO:
ADDRESS: 1151 Oak Street | Pittston, PA 18640
PHONE: (570) 655-5581
EMAIL
HOURS:
Mon – Fri: 8:30 am – 4:30 pm
Sat & Sun: Closed
The Northeastern Pennsylvania Alliance is a regional community and economical development agency providing services to the area.
The NEPA Alliance serves the following counties in Northeastern PA: Carbon, Lackawanna, Luzerne, Monroe, Pike, Schuylkill, and Wayne.
Nonprofit and community efforts are supported by their Nonprofit & Community Assistance Center.
The assistant center offers resources and manages the best practices to improve their communities. The Alliance Annual Dinner is being held at the Hilton Scranton & Convention  Center.  This years speaker is Denny Corby, a professional corporate speaker, entertainer, and mentalist. All funds from the event are used to match federal and state funding opportunities that help the organization position our region for economic growth, improved infrastructure, and sustainable community developement.
The Northeastern Pennsylvania Alliance also has their Research & Information Services Center, where they study impact and provide data services for analyzing regional economy.
From helping businesses grow to gathering community data or donating time and effort to those in need, the NEPA Alliance is hard a work. They also provide transportation services, regional grants, and more.
Be sure to keep up with Sundance Vacations News and click the DONATE button above to join the effort! There you can contact Kurt Bauman, their Executive Director, about making a donation.