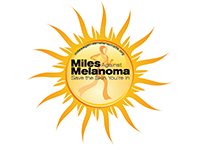 DONATED TO:
ADDRESS: 840 Dartmouth St. | Harrisburg, Pennsylvania 17109
EMAIL: mamhbgpa@gmail.com or Contact Us form
PHONE: 717-425-0996
HOURS:
Mon – Fri: 8:30 am – 4:30 pm
Sat & Sun: Closed
Miles Against Melanoma is a non-profit organization whose mission is to bring awareness to skin cancer. There are six different chapters including locations in St. Louis and North Carolina.
Sundance Vacations supports their chapter in Harrisburg, PA.
Miles Against Melanoma Harrisburg is Director Lois Hengst's way of working to educate the public about the dangers of skin cancer.
Lois herself was a victim of melanoma. After 4 years of consistently using tanning beds, the young 24 year old was diagnosed with the deadliest form of skin cancer.
After 3 surgeries and active support from her loved ones, Lois was able to fight off the cancer. Now, she made it her mission to bring awareness to others about protecting themselves.
Sundance Vacations supports their annual Golf Outing. All proceeds from events such as these are donated to The Melanoma and Skin Cancer Center at the Penn State Hershey Cancer Institute located in Hershey, Pennsylvania.
Between educating the public about the dangers of cancer, supporting patients and survivors, and fundraising to endorse further cancer research, this non-profit could use your help!
Be sure to keep up with Sundance Vacations News and click the DONATE button above to join the effort!
For more information on who we support, Like Sundance Vacations Charities Facebook page!