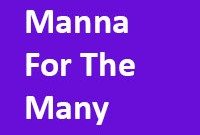 DONATED TO:
ADDRESS: P.O. Box 129 | Shamokin, PA 17872
PHONE: (570) 648-9079
HOURS:
Mon: Closed
Tues: 9:00 am – 11:00 am
Wed: 1:00 pm – 3:00 pm
Thurs: 6:00 pm – 8:00 pm
Fri: Closed
Sat & Sun: Closed
*If the month has 5 weeks in it they are closed on the 5th week.*
Manna for the Many Community Food Pantry, a local food pantry, has been servicing the Shamokin and Coal township areas of Pennsylvania for over decade now.
Running entirely on donations from the public and work from a number of dedicated volunteers, this pantry has been helping the community's needy families since opening in January of 2000.
The twelve-member board of directions oversees with pantry operation with the help of volunteers.
Manna for the Community Food Pantry have community support through churches, schools, community groups, and individuals who donate.
Donations can be brought in when the pantry is open for distribution, 9 to 11 a.m. Tuesdays, 1 to 3 p.m. Wednesdays and 6 to 8 p.m. Thursdays. For more information on how you can help volunteer, please call the provided phone number.
Monetary donations can also be mailed to Manna for the Many, P.O. Box 129, Shamokin 17872.
Be sure to keep up with news from Sundance Vacations on Manna for the Many Community Food Pantry or other charities!