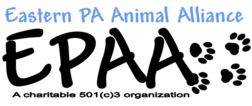 DONATED TO:
ADDRESS: 1546 Route 209, Suite 102 | Brodheadsville, PA 18322
PHONE: (570)944-5846
EMAIL: epaaonline2009@gmail.com
HOURS:
Call for hours.
Spaymobile locations vary.
The Eastern PA Animal Alliance is a low cost spay and neuter program for dogs and cats whose mission is to help shelters by preventing millions of needless deaths each year.
The simple step of spaying or neutering your pet can reduce overpopulation and make a humane difference in the community.
The animal alliance's main clinic office is located in Brodheadsville, PA, however, their "spaymobile" travels all over. Driving to Scranton, Honesdale, Wilkes-Barre, Tunkhannock, and other parts of Schuykill County and eastern PA, the vehicle fixes pets on the go.
The animal alliance is seeking volunteers! See how you can get involved with vaccinations or fundraising.
The Eastern PA Animal Alliance is always seeking donations of supplies or monies to help their furry friends. Please see their website for more information on items they are accepting. As a partner of Amazon, they make it easy to purchase online and help.
Be sure to keep up with news from Sundance Vacations on the Eastern PA Animal Alliance or other charities and click the DONATE button above to join the effort!