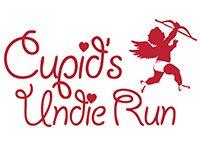 RACE DAY ADDRESS:
ADDRESS: McFadden's Restaurant and Saloon | 211 North Shore Drive | Pittsburgh, PA 15212
CONTACT: Click here for contact form
Cupid's Undie Run is a one mile "fun run" which takes place annually in Pittsburgh, PA to benefit the Children's Tumor Foundation.
The fundraiser has raised 3.5 million dollars over its existence and donates its proceeds to help children who suffer from neurofibromatosis (NF). NF is a rare and deadly disease that affects 1 in every 3,000 birth.
According to the Children's Tumor Foundation: "NF causes tumors to grow on nerves throughout the body and can lead to blindness, bone abnormalities, cancer, deafness, disfigurement, learning disabilities, and excruciating and disabling pain."
Sundance Vacations is a proud sponsor of the annual Cupid's Undie Run.
It is our vision that with a little help from others, we can put the fun back in fundraising while supporting the Children's Tumor Foundation's mission to find a cure through peer-reviewed research.
Cupid's Undie Run isn't just centralized in Pittsburgh, PA! The races take place all across the United States.
Runners earn a pair of undies and socks to wear for the race through fundraising as well as other "swag" to wear on race day.
To learn more about how you can help fight NF, click DONATE to take you to Cupid's Undie Run and make a pledge.